---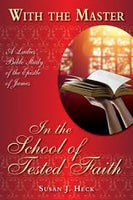 Sale
The Epistle of James is important for its moral and ethical teaching to the church. In the School of Tested Faith is an excellent verse-by-verse ladies' Bible study tool, including study questions at the end of each chapter.
Martha Peace says of this study, "This study of the book of James is refreshingly solid and thought provoking. The illustrations are clear and she does not side-step or water down the extremely convicting exhortations of James."
Paperback, 346 pages.
ISBN- 9781936141371