---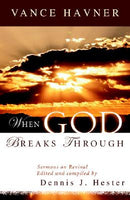 Sale
Licensed to preach at the age of 12 and ordained at 15, Havner spent a lifetime calling people to repentance. A popular Revivalist known for his homespun storytelling and memorable wordplay, Havner boldly proclaimed the Word of God for 73 years.

The author of more than 30 books, Havner's sermons are favorites among pastors who find his style refreshing, his quotes memorable, and his message convincing. In this collection of 10 revival sermons, Havner's hard-hitting words proclaim the biblical message of heaven, hell, sin, repentance, sacrifice, holiness, prayer, and the lordship of Christ--themes that resonate with as much relevance today as when Havner first preached them.

Paperback, 143 pages.


ISBN- 9780825428739