---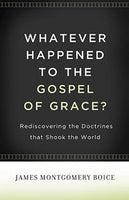 Sale
We don't like to admit it, but anyone who honestly evaluates the church's life and outlook will understand that these are not good days for evangelicalism. We've achieved success, but in a worldly sort of way--big numbers, big budgets, and big outreaches. Yet church attendance is actually down and alleged ''born again'' believers do not differ significantly in their worldview from their neighbors. Why? We have forgotten our theology and, consciously or not, have pursued the wisdom of the world, accepted its ''doctrines,'' and utilized its methods.

Pastor James Montgomery Boice believed that our ignorance of God and neglect of the gospel of grace is the root of the problem. Here he identifies what's happening within the church and explains how the five doctrinal truths that transformed the world during the Reformation not only offer the solution but can shape a renewal today.

By offering people what they desperately lack--the Word of God and salvation through Christ--rather than giving them an imitation of what they already have, we will see Christianity thrive once again. And in holding fervently to the foundational truths of the gospel, we will know the power of spiritual renewal in our churches.

''Without these five confessional statements--Scripture alone, Christ alone, grace alone, faith alone, and glory to God alone--we do not have a true church, and certainly not one that will survive for very long. For how can any church be a true and faithful church if it does not stand for Scripture alone, is not committed to a biblical gospel, and does not exist for God's glory? A church without these convictions has ceased to be a true church, whatever else it may be.'' --James Montgomery Boice

Paperback, 224 pages.


ISBN- 9781433511295