---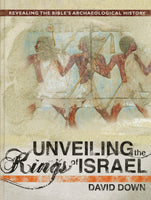 Sale
Unearth the history of the small nation of Israel - the troubled and devastating periods of loss and exile - once lost to time. Far from being a book of myths, the Bible is an amazing historical record, and each year, more archaeological discoveries continue to prove its validity and significance. Follow the intriguing clues found buried in ancient cities, on the walls of early monuments, and in the written records of our world's oldest civilizations. Walk the ancient streets, explore the distant temples, and unearth the compelling history that continues to resonate with the world today.
Features:
•Cultural references proven through artifacts and archives displayed in full color.
•Fascinating accounts that fill in some of history's unwritten record.
•A Biblical timeline highlighted by detailed photos and examples.
Hardcover, 224 pages.
ISBN- 9780890516096