---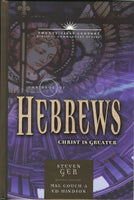 Sale
Do you want to know why Jesus really came to earth?

The Book of Hebrews transforms our understanding of Christ from abstract theology to intimate relationship. The motivating purpose behind Jesus' very real incarnation was that He might become a ''merciful and faithful high priest,'' who, because He had been ''tempted in that which He has suffered'' is now empowered to ''come to the aid of those who are tempted.''

Hebrews declares Jesus' identification with every believer as well as His personal involvement in every aspect of our lives. Hebrews offers instruction and comfort to the modern church, giving a profound glimpse into the Lord's present ministry as the High Priest who intercedes on our behalf. Hebrews presupposes that the reader is familiar with the Old Testament and deals with specifically Jewish issues, concerns, and controversies.

Steven Ger's ethnic and spiritual background as a Jewish believer in Jesus, coupled with decades of extensive study of both Christianity and Judaism, distinctively qualify him to offer new perspectives to the study of Hebrews.

Learn more about the power and worth of the sacrifice Christ offered by His own death. See the total sufficiency of Christ's atonement for our sins. Be comforted by the hope that comes from an intimate relationship with the great High Priest.

Paperback, 271 pages.


ISBN- 9781617154966