---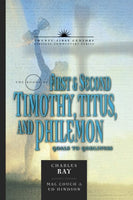 Sale
The key to achieving success in anything is to set reasonable goals and strive to meet them. The difficulty in striving to be like Christ is that we never can be like Him—not perfectly, not until we are made new in His image in heaven. Yet, the fact that we cannot achieve perfection should never stop us from anything good. So, the real question is, how good is good enough? Any Christian who thinks he or she has nothing more to achieve in godliness and personal holiness is utterly deceived.

These books (especially 1 and 2 Timothy and Titus) are often referred to as the "Pastoral Epistles." The name is certainly appropriate since these books provide the most thorough statement of church government found anywhere in the New Testament. Paul's combination of personal advice and apostolic injunction have set the pattern for church government for the past twenty-one centuries.

Yet, these books are so much more than official letters on church policy. American scholar Homer Kent Jr. made a career out of studying these important letters. He summed up his opinion of them, saying, "Not only is the content rich in doctrinal and practical discussion, so pertinent to the Christian life, but the historical, geographical, and personal notices make the letters colorful and intensely human."

Hardcover, 256 pages.


ISBN- 9780899578262