---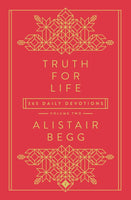 Sale
Start with the gospel each and every day with this second volume of 365 Christ-centered daily devotions from renowned Bible teacher Alistair Begg.
Each daily devotion includes:
• reflections from renowned Bible teacher Alistair Begg
• prompts for real-life application
• relevant Scripture passages
• a yearly Bible-reading plan
The durable hardback cover with dust jacket and ribbon marker make this a wonderful gift.
We all need to be reminded of the truth that anchors our life and excites and equips us to live for Christ. Reflecting on a short passage each day, Alistair spans the Scriptures to show us the greatness and grace of God, and to thrill our hearts to live as His children. His clear, faithful exposition and thoughtful application mean that this resource will both engage your mind and stir your heart.
Alistair Begg is the Bible teacher of Truth For Life ministry. His is one of the most recognizable Christian voices on the radio today. This resource delivers his warm, faithful teaching in the form of concise daily devotions. Alistair grew up and ministered in Scotland before moving to Ohio, where he is the Senior Pastor of Parkside Church in Chagrin Falls.
Hardcover
ISBN- 9781784987688