---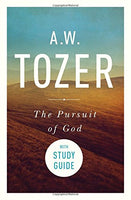 Sale
The Human Thirst for the Divine - Psalm 42:1

In the muddle of day-to-day life, have you somehow forgotten that Christianity is a living, vibrant relationship with a personal God? In this classic bestseller and recipient of both the ECPA Gold and Platinum Book Awards, The Pursuit of God reminds and challenges you to renew your relationship with your loving God. In each of the 10 chapters, Tozer explains one aspect of hungering for God and ends with a prayer. Includes study guide by Jonathan L. Graf.

Paperback, 231 pages.


ISBN- 9781600661068