---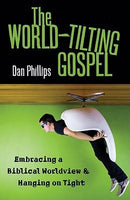 Sale
A cure to worldly vertigo

The first generation of Christians turned the world upside down. But the church today is being turned upside down by the world. Why? And why aren't we-with all our social medias and high-tech gadgets-more effectively producing Christ-centered, Gospel-liberated, biblically-instructed, world-tilting believers?

In The World-Tilting Gospel, popular blogger Dan Phillips lays out four reasons why the first believers had more impact on their culture than today's church has on contemporary society. Using a whole-Bible approach to the Gospel, Phillips shows who we really are, what kind of world we are really living in, who God really is, and what difference the Gospel really makes in our everyday lives. Drawing from decades of studying the Bible's Hebrew and Greek texts, Dan Phillips offers a conversational and engaging challenge to embrace a biblical worldview-and hang on tight.

''Pick this book up, flip to any page, and start reading. You won't want to put it down.'' --Robert L. Plummer, author of 40 Questions About Interpreting the Bible

''This book is a great tonic for the postmodern tendencies that poison so many young minds today.''--Phil Johnson, Executive Director of Grace to You Ministries and co-founder of the Pyromaniacs blog

''Dan Phillips is both easy and edifying to read. The World-Tilting Gospel is a sound introduction to what it means to be followers of Jesus Christ. I recommend it widely.'' --Ligon Duncan, President of the Alliance of Confessing Evangelicals

''Pithy, pointed, perceptively biblical.''- John MacArthur, best-selling author

Paperback, 315 pages.


ISBN- 9780825439087