---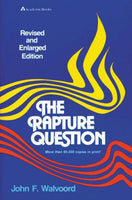 Sale
This re-edition of the classic examines four views of the church's role in the tribulation: partial rapturism, pre-tribulationism, mid-tribulationism, and post-tribulationism, with special emphasis on the debate between pre-tribulationism and post-tribulationism. Bibliography and index are included.
Now completely revised and enlarged, using quotations from the New International Version -- John F. Walvoord's classic work on the Rapture! The Rapture Question examines the four views of the church's role in the tribulation: Partial Rapturism, Pretribulationism, Midtribulationism, and Posttribulationism, with the revised edition particularly discussing the current debate between pretribulationism and posttribulationism. In updating his work, the author also added treatments on the Rapture in the Gospels, in 1 Thessalonians 4, in 1 Thessalonians 5, in 2 Thessalonians, in 1 Corinthians, and in Revelation. A bibliography of current literature plus general and Scripture indexes are included.
Paperback, 308 pages.
ISBN- 9780310341512