---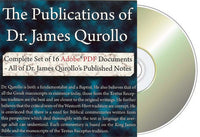 Sale
Adobe PDF documents 16 of Dr. James Qurollo's New Testament commentaries.
Includes: The Bible; The Basis of What We Believe, A Harmony of the Gospels, Romans, I Corinthians, II Corinthians, Galatians, Ephesians, Philippians, Colossians & Philemon, I & II Thessalonians, I & II Timothy and Titus, Hebrews, James, I & II Peter and Jude, Epistles of John, and Revelation. 
Matthew, Mark, Luke, John, and Acts are not included on this CD.

ISBN- 9781495107788