---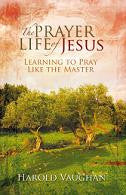 Sale
Since the disciples asked, ''Lord, teach us to pray,'' Christians have recognized Jesus Christ as the great authority on prayer. And yet most of us have failed to follow His divine teaching on prayer--and consequently have forfeited many benefits that are ours as God's children.

Harold Vaughan searches the Scriptures concerning our Lord's prayer life and shares valuable insight in his practical, in-depth book. As he reviews the actual prayers of Jesus--as well as their results--we gain an understanding of the purpose of prayer, specific types of prayers, the eternal blessings of a life of prayer, and other essential aspects of prayer.

If you have ever felt frustrated by ''unanswered'' prayers, by an inability to pray aloud in the presence of others, or by feelings of unworthiness as you petition God, Vaughan offers helpful advice gleaned from the One Who ''ever lives to make intercession for the saints.''

Paperback, 115 pages.


ISBN- 9780979088407