---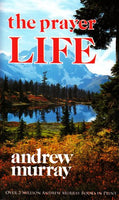 Sale
''Prayer is the very pulse of the spiritual life.'' So Andrew Murray reminds us in this classic on the power of prayer. With profound insight, the author reveals the greatest secret to success in our pursuit of God, that in spiritual work everything depends upon prayer. Most often it is simply the sin of prayerlessness that causes us to fall short in reaching our full potential in God.

Prayer flows out of a renewed relationship with Christ, a communion with God based upon love and trust in Him to be our all-sufficiency. It is only this life of persevering and believing prayer that leads to a powerful and abundant spiritual walk in Christ.

Paperback, 156 pages.


ISBN- 9780883681022