---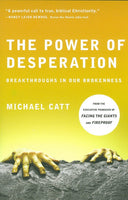 Sale
Does it feel like you're barely hanging on? Hang in there. In seasons of brokenness, God has a graceful way of not tossing us aside but making us whole again, turning our most desperate situations into defining moments. It happens throughout the Bible, and maybe it's happening to you or someone close right now.
What could be good about being broken? It's the perfect time for God to empty you of "you"---and fill you with himself! For anybody who needs divine strength in moments of absolute weakness, Catt finds treasures at "rock bottom." Using biblical and real-life stories, he shows you how to trust when you want to panic!
Michael Catt, a pastor whose church launched the international hit films Facing the Giants and Fireproof , has found simple yet saving wisdom in The Power of Desperation, another breakthrough concept worthy of widespread application.
Paperback, 240 Pages.
ISBN- 9780805448672