---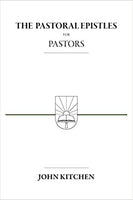 Sale
I heartily welcome and endorse this encyclopedic study of Paul's Pastoral Epistles. For years we have had Eugene Stock's ''Practical Truths from the Pastoral Epistles'' and W Edward Chadwick's ''The Pastoral Teaching of St. Paul: His Ministerial Ideals,'' but this volume goes beyond them in exposition and application. The beginning pastor and the seasoned minister will both discover in these pages enlightenment, encouragement and a new sense of wonder and privilege of being a servant of God. You can live in this book for the rest of your life and have a more fruitful and rewarding ministry!
Warren W. Wiersbe
Former Pastor, Moody Church

Paperback, 623 pages.


ISBN-9781934952351