---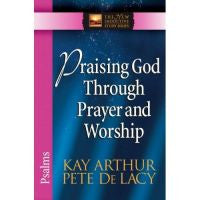 Sale
Kay Arthur's life–changing New Inductive Study Series has sold more than 1.3 million copies. This exciting series brings readers face–to–face with the truth of God's precepts, promises, and purposes—in just minutes a day. Ideal for individual study, one–on–one discipleship, group discussions, and quarterly classes.

With this inductive study of Psalms, readers discover and experience the psalmists' beautiful, heartfelt expressions—in prayer, in confession, in grief, and in praise―of their love for and devotion to God. As readers learn to observe, interpret, and apply the text themselves, their personal prayer times grow more profound and worship experiences more fulfilling.

Paperback, 192 pages.


ISBN- 9780736923040