---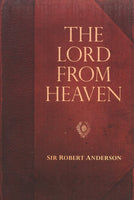 Sale
Sir Robert Anderson (1841-1918) was converted to Christ at the age of nineteen and almost immediately began to preach in his native Dublin where he trained for a legal profession at Trinity College. He became a respected member of the Irish Home Office and an expert on criminal investigation.

''Solid work...retains the robust scriptural approach and the trenchant style of its day.... Exposes the modern heresies that resulted from attempts by liberal churchmen to find common ground on which they could stand with atheists and humanists in considering the claim of Jesus to be the Christ and God. It is unyielding in its assertion of the truth of His deity.''
Austin Record

Paperback, 128 pages.


ISBN- 9780825425790