---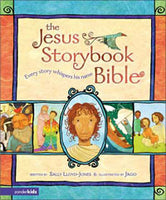 Sale
Uses 1984 NIV and other paraphrases.

Reviews of The Jesus Storybook Bible

Critical Praise for The Jesus Storybook Bible:

Ages 4-8

"The Jesus Storybook Bible is unlike any other storybook. True, that's to be expected when you combine the mesmerizing illustrations of Jago and the award-winning writing of Sally Lloyd-Jones, a Brit with an uncanny knack for storytelling. Not only is each story as vividly illustrated as it is portrayed, but also each tale is telling one Big Story—the Story of Jesus. Even the Old Testament stories of 'The young hero and the horrible giant' and 'Daniel and the scary sleepover' come full circle to Jesus, the greatest Hero, King, Lover and Rescuer the world has ever known. — More to Life Magazine

The Jesus Storybook Bible tells the Story beneath all the stories in the Bible. At the center of the Story is a baby, the child upon whom everything will depend. Every story whispers his name. From Noah to Moses to the great King David—every story points to him. He is like the missing piece in a puzzle—the piece that makes all the other pieces fit together. From the Old Testament through the New Testament, as the Story unfolds, children will pick up the clues and piece together the puzzle. A Bible like no other, The Jesus Storybook Bible invites children to join in the greatest of all adventures, to discover for themselves that Jesus is at the center of God's great story of salvation—and at the center of their Story too.

Hardcover, 352 pages.


ISBN- 9780310708254