---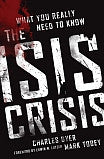 Sale
Most of us have questions about the group called ISIS, as we hear more and more about the unspeakable things they are doing in the Middle East.

In ISIS Crisis, authors Charles Dyer and Mark Tobey answer those questions. Drawing from history, current events, and biblical prophecy, they guide readers through the matrix of conflicts in the Middle East. Then they explore the role of ISIS in all of these matters. Finally they encourage Christians to look to Jesus, the Prince of Peace.

Paperback, 144 pages.


ISBN- 9780802413185