---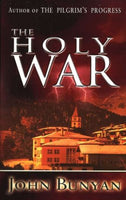 Sale
Once upon a time, the residents of the town of Mansoul were tricked into defying their ruler, Shaddai. Their new ruler, Diabolus, brought them great harm. When Shaddai sends Prince Emmanuel, his son, to rescue them, a great battle is fought. Who will emerge victorious—Diabolus or Emmanuel? And what can the inhabitants of Mansoul do to resist the attacks of the evil one?

From the author of The Pilgrim's Progress comes a powerful allegory about the battle being fought for man's heart, mind, and spirit. Your soul is under attack from the forces of evil. Through this compelling read, you will learn how to build up your defenses, flood your moat, and prepare for victory in the war against Satan and the forces of darkness!

Paperback, 334 pages.


ISBN- 9780883687062