---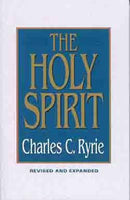 Sale
All students of Scripture can benefit from this concise, practical study of the person and work of the Holy Spirit. All the doctrinal essentials are here, clearly organized and explained by the renowned scholar who prepared the Ryrie Study Bible. Avoiding confusion and trendiness, Dr. Ryrie sticks uncompromisingly to the revealed Word of God to answer questions such as: What is Spirit baptism? What is the sin against the Holy Spirit? What does it mean to be filled with the Spirit? What about the spiritual gift of tongues? What is true spiritual power?

This revised and expanded edition includes:· Two new chapters on contemporary issues related to the doctrine of the Holy Spirit· New overview charts-bird's-eye views of complex issues· Handy subject and Scripture indexes for quick reference· An updated selected bibliography for further study

Paperback, 223 pages.


ISBN- 9780802435781