---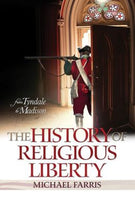 Sale
The History of Religious Liberty is a sweeping literary work that passionately traces the epic history of religious liberty across three centuries, from the turbulent days of medieval Europe to colonial America and the birth pangs of a new nation.

The assertion that the Enlightenment is responsible for the American Bill of Rights may be common, but it is devoid of any meaningful connection to the actual historical account. History reveals a different story, intricately gathered from the following:

Influence of William Tyndale's translation work and the court intrigues of Henry VIII
Spread of the Reformation through the eyes of Martin Luther, John Knox, and John Calvin
The fight to establish a bill of rights that would guarantee every American citizen the free exercise of their religion.

Early American advocates of freedom did not believe in religious liberty in spite of their Christianity, but explicitly because of their individual faith in Christ, which had been molded and instructed by the Bible. The greatest evidence of their commitment to liberty can be found in their willingness to support the cause of freedom for those different from themselves.

James Madison played a key role in the founding of America and in the establishment of religious liberty. But the true heroes of our story are the common people whom Tyndale inspired and Madison marshaled for political victory. These individuals read the Word of God for themselves and truly understood both the liberty of the soul and the liberty of the mind.

Paperback, 496 pages.


ISBN- 9780890518687