---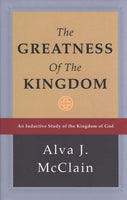 Sale
This book has no equal.

The Kingdom of God is the grand central theme of all Holy Scripture. And nowhere is it more fully examined through inductive study than in this remarkable classic by the late Dr. McClain, a past president and professor of Christian theology at Grace Theological Seminary.

Written in 1959, The Greatness of the Kingdom grows more relevant each day. Here is an excerpt from Dr. McClain's preface:

It has become a serious question whether men can any longer trust themselves with the appalling things they have made. . . . The community of nations is now existing precariously in the delicate balance of . . . an "equilibrium of terror"; . . . It seems quite certain that we shall never again be even measurably safe here on earth until . . . God Himself breaks once more into human history supernaturally—this time to establish with divine omnipotence a Kingdom of righteousness and compassion upon earth.

This hard-to-find treasure will teach you more about the Kingdom of God than you thought possible.

Hardback, 531 pages, 6 1/4'' x 9 1/4''.


ISBN- 9780884690115