---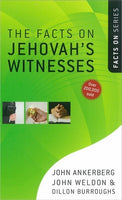 Sale
This small paperback book addresses the Watchtower Society's claim to be God's only channel on earth for revealing His will to people. It answers such questions as:

Is the Watchtower Society's translation of the Bible accurate and unbiased?
Are its predictions for the future reliable?
Are its followers, the Jehovah's Witnesses, content with their lives and with their leaders?

Paperback, 93 pages.


ISBN- 9780736922159