---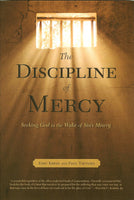 Sale
Sin does not deliver on its promises. Rather, it brings only pain and misery with its rebellion. Sin's pleasure is only for a moment, but its painful consequences may last a lifetime. So where do we turn when we have fallen for the deceptive power of sin and are left reeling in the wake of the havoc it causes?
In The Discipline of Mercy, pastors and counselors Eric Kress and Paul Tautges take us deep into the book of Lamentations where we are exhorted to place our hope fully in the faithful mercy and loyal love of a gracious God—no matter the extent of our suffering. God alone is sovereign and rules forever––and He will use even the grievous effects of sin to accomplish His purposes. God loves His own too much not to discipline us, and yet He is faithful to suffer alongside us, cleansing us, healing us, and grieving with us as He crafts us into useful vessels for His glory. The corrective and purifying discipline of God is one of the most significant demonstrations of His unfailing mercy, perhaps overshadowed only by the sacrifice of Jesus Christ.
Paperback, 205 pages.
ISBN- 9781934952085