---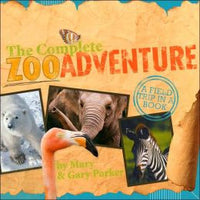 Sale
A family or class trip to the zoo becomes an unforgettable learning adventure with this unique, evolution-free guide to the incredible world of animals!

Did you know:

That the flamingo's pink color comes from the food that it eats?
That the hummingbird's heart beats 1,000 times per minute?
That the polar bear has a third eyelid that acts as ''sunglasses'' to protect it from snow blindness?

The Complete Zoo Adventure sets the stage for learning with ''Before the Zoo'' preparations, gives you the tools you need for an awesome ''At the Zoo'' experience, and then continues to deepen the understanding of God's Creation with fabulous ''After the Zoo'' activities. Truly a complete guide like no other!

PLUS:

7 Devotionals
27 Encounters with God's Creatures
''Looking Ahead'' - 7 Creation Foundation Lessons
Detailed Professional Educator Guide
27 Scripture Memory Aids
12 Name Badges

Spiralbound, 150 pages.


ISBN- 9780890515006