---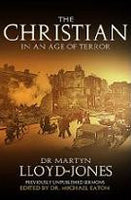 Sale
At a time when the nations of Europe were engaged in fierce conflict, one of the twentieth century's most influential pastors taught his congregation about the threat of persecution and suffering and how it should be viewed. When the war ended in 1947, D. Martyn Lloyd-Jones sought to refocus the people on the basics of the faith with a series of messages entitled, "What is a Christian?" based on Romans 8. Since the rise of terrorism in the twenty-first century, these previously unpublished sermons have become startlingly relevant to what is happening in our own times. Readers will find hope, encouragement, and a balanced view of how Christians should live during an "age of terror."

Edited by Dr Michael Eaton - Previously Unpublished Sermons

Arranged in a Q & A format, this volume tackles the major questions that pastors, church leaders, and students ask about congregational church government, a topic of much interest in the church today. It provides readers with a clear analysis of key biblical passages, succinct answers (4–8 pages each), and discussion questions. The unique format of the book allows the reader to pick and choose what issues are most pertinent to their interests and needs.

Paperback, 280 pages.


ISBN- 9780825429798