---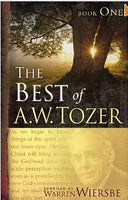 Sale
Tozer could take the truth and hold it up to the light and make it shine like a diamond!
Covers some of Tozer's major thoughts about the Christian Faith.  Every chapter unveils a profound, engaging, and convicting insight into some of the problems with modern Evangelicalism.   Tozer would write his books after many long hours of prayer and contemplation.  Hence the reason for their popularity and continuing influence.  Some of the excerpts from this volume are:
The Pursuit of God

 

Born After

 

God Tells the Man Who Cares

 

That Incredible Christian

 

The Root of Righteous

 

Of God and Men

 

Plus many more!

  
Paperback, 251 pages.
ISBN- 9781600660436