---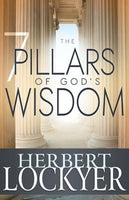 Sale
''Wisdom hath builded her house, she hath hewn out her seven pillars.''
-Proverbs 9:1

''The church of the living God, the pillar and ground of the truth.''
-1 Timothy 3:15

The Foundation for Our Growth Is in the Wisdom and Knowledge of God!

In 1 Timothy 3, the apostle Paul described the church as a pillar that upholds God's truth and wisdom for the world to see. Now, legendary Bible teacher Herbert Lockyer unlocks the seven ''pillars'' of divine wisdom demonstrated in Christ's incarnation and redeeming work on earth. Understanding these pillars can help us to become more like Him and to fulfill God's purposes, both here and in eternity.

The early church was so dynamic in its witness because it continued steadfastly in these aspects of the Christian faith. Likewise, when we meditate reverently on the events and truths of Jesus' coming to earth, we appreciate more deeply the great salvation that we have received, and we become more eager to share these liberating truths with others.

Paperback, 159 pages.


ISBN- 9781603748377