---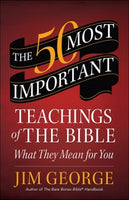 Sale
What you know about the Bible affects how you live. Yet the Bible is a big book—where do you begin?
In 50 Most Important Teachings of the Bible, bestselling author Jim George highlights key teachings every believer should know. With great clarity and simplicity, this book focuses on the most essential elements of the faith, with entries such as…
●the Bible is the ultimate handbook for life
●God is here and is not silent
●the Holy Spirit is the secret weapon of every Christian
●Satan is not as powerful as you think he is
●once God has a hold on you, He'll never let go Learn the great truths of the Bible and make them real in your life. You'll be strengthened and encouraged as you do!
Paperback, 240 pages.
ISBN- 9780736960175