---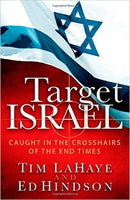 Sale
Prophecy authors Tim LaHaye and Ed Hindson explore what is happening in the Middle East today and why it is so significant to all of us.
Learn about:
why Israel's existence is a true miracle of God
why Israel is at the center of so much controversy in the Middle East
why the march to Armageddon has already begun
God's eternal plans for both the Jewish people and Christians
what to expect at the rapture, the second coming, and in Jesus' kingdom on earth.

Paperback, 215 pages.


ISBN-  9780736964494