---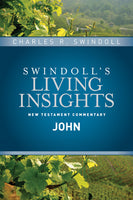 Sale
Insights on John, volume two in the landmark Swindoll's New Testament Insights series, provides a rich and colorful, detailed, and easy-to-comprehend insights into the gospel of John. Drawing on his large experience as a communicator of the Bible, Chuck Swindoll presents his legacy to all who read and love Scripture.
Pulls together rich, rock-solid scholarship with a storyteller's imagery and passion, Chuck Swindoll has a gift for taking folks into the immediacy of the Scriptures. The "Insights" series comes from a master teacher and communicator to the church of Jesus Christ. You'll gain a remarkable new view into the Bible—and far more. God's Word will come alive for you, filled with drama, power, and truth, as you journey with Chuck chapter by chapter through the New Testament.
Hardcover, 408 pages.
ISBN- 9781414393797