---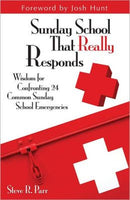 Sale
In this sequel to Sunday School That Really Works, Steve Parr explores twenty-four problems in organizing and teaching a Sunday school class. But he does more than present the problems; he provides practical and biblical wisdom on how the problems may be solved.
The author tackles each issue using the first-responder motif: triage, prescription, first aid, and rehab.
 The book is divided into two sections: general Sunday school organizational issues, and specific issues related to a particular Sunday school class. The result is an ideal tool for the pastor of education, Sunday school director, and Sunday school teacher that can be used to identify weaknesses and to determine how to restore the Sunday school to good health
Paperback, 256 pages.
ISBN- 9780825440649