---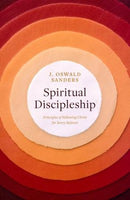 Sale
Jesus' first call to those who would become His followers was a call to discipleship. Most Christians desire a life that brings glory and honor to God, yet few fully understand the sacrifice Christ asks of His disciples. In this revised edition of Spiritual Discipleship, J. Oswald Sanders details the scriptural components of following Christ, stressing the need for putting others before oneself, and recognizing Christ's lordship as we deal with our ambitions and goals. Spiritual Discipleship is a must for any Christian who seeks a better understanding of servanthood. Containing study questions at the end of the text, it provides a probing insight into the biblical requirements for a disciple in the Lord's service.

Study guide included.

Paperback, 231 pages.


ISBN- 9780802416698