---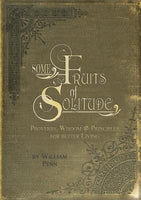 Sale
Do you long for simpler days and the wisdom that guided them? Some Fruits of Solitude is a collection of William Penn's reflections on 165 subjects covering leadership, religion, discipline, relationships, and more, originally printed in 1693.  Penn, a revolutionary leader and founder of Pennsylvania, was known for his faith, compassion, fairness, and equality to all.  Contemplation on his proverbs and principles will deliver the serenity of a much less chaotic time to your life and family.
"Between a Man and his Wife nothing out to rule but Love.  Authority is for Children and Servants; yet not without Sweetness." – From Avarice
This printing preserves the original style, character, and content of the 1901 vintage edition.  It is a treasure that keeps our Christian heritage alive and unrevised for every family, leader, and library. 
Hardcover,176 pages.
ISBN- 9780890516508