---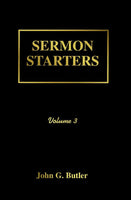 Sale
Volume 3 – In this volume, all the Old Testament texts are from the Psalms and all the New Testament Texts are from Acts and Romans.
The book of Sermonettes is to help you get a sermon, sermonette or devotional.  If you need a sermon, sermonette or devotional, here is the place to get your ideas.  Feel free to use the outlines, illustrations and anything else in these Sermonettes that you wish to use.
Most speakers may wish to personalize the sermon starters and use their own illustrations and outlines. They simply need a "starter" and that is what these Sermonettes are intended to be.
The Sermon Starter Sermonettes are listed in the contents according to "book order" as listed in the Bible.  There also are two indexes (Scripture Text Index and Subject Index) at the end of this title that the user may find helpful.
This book is composed of 100 texts from the Old Testament and 100 texts from the New Testament. Each sermonette is from a one verse text.  The book develops each text with an outline,annotations and applications.  Outlines are alliterated—a trademark of the author.
All Scripture used in this book is from the King James Version.  Hebrew and Greek references are from the Hebrew and Greek MSS used for this translation.

Paperback , 228 pages


ISBN- STBC0JGBSER03