---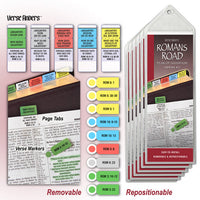 Sale
The Romans Road Tabbing Kit lays out the plan of salvation through a series of Bible verses found in the book of Romans. These verses form an easy, orderly way to explain the message of salvation.

The Romans Road answers the following questions:

Who needs salvation?
Why do we need salvation?
How does God provides salvation?
How do we receive salvation?
What are results of salvation?

This kit contains page tabs and verse markers for the most common version of the Romans Road. There are different versions of Romans Road with slight variations in Scriptures, but the method and message are the same.

Tabs are removable, repositionable, and easy to install.


ISBN- 634989573264