---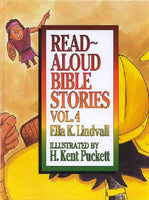 Sale
Pre-schoolers and early school-age children love to be read to. They quickly develop favorites, and what better favorites can they have than stories written and illustrated just for them, with careful attention paid to the authority of Scripture. Your little listeners will come to you again and again, asking to hear these cherished Bible stories and to see the colorful illustrations.

Extra large, easy-to-read print and bright illustrations will captivate children. Includes five well-known Bible stories from the life of Christ. This Gold Medallion winner is ideal for early readers. Durable, wipe-clean surface.

Illustrated by H. Kent Puckett

Volume Four:
Joseph and His Brothers
The Baby in the Basket
Joshua and the Big Wall
David and the Biggest Man
Jonah and the Big Fish

Hardcover, 158 pages.


ISBN- 9780802471666