---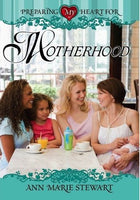 Sale
Mothers of all ages and stages, prepare for a complex but wonderful journey!
Author Ann Stewart recently asked many mothers the following question: "What do you wish you had known before you became a parent?"
The numerous answers to these questions form the backbone of Preparing My Heart for Motherhood: For Mothers at Any Stage of the Journey.  In this five-week interactive study, you'll "hear" these women discuss what it means to love God with all your heart and how that relates to loving your husband, discussing changes motherhood brings, and describing how your heart can be filled to overflowing so you love your children. Learning from the stories and experiences of others along with daily readings from God's Word will allow you to treasure many truths in your heart.
Speaking of treasure, the Gospel accounts tell us that Jesus' mother, Mary, treasured many things in her heart.  ?; To ponder?; To keep something in your heart?. Treasuring truths may prepare or refresh you in your motherhood journey. And like Mary,may your hearts treasure and ponder all God wants to teach you.
Paperback, 174 pages.
ISBN- 9780899570273