---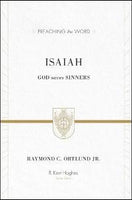 Sale
Isaiah is widely considered the deepest, richest, and most theologically significant book in the Old Testament. It is, without question, a profound statement by God about his own sovereignty and majesty spoken through his chosen spokesman, the prophet Isaiah.

In this expository commentary on the book of Isaiah, Raymond C. Ortlund, Jr., argues that Isaiah imparts a single vision of God throughout all sixty-six chapters. It is a unified, woven whole presenting God's revelation of himself to mankind, breaking through our pretense and clashing "with our intuitive sense of things." Ortlund makes a point of man's uninterest in God and his unfailing inclination to disbelief, and thus the need for God to "interrupt our familiar ways of thinking."

The emphasis of this addition to the Preaching the Word series is this: God saves sinners. He saves them willfully and powerfully and needs no help from us, presenting himself in all his unmistakable glory. The message of Isaiah, shown thoroughly and thoughtfully in this commentary, will reignite a passion for the glory of God in the hearts of believers and will present that glory clearly and potently to those who have yet to be brought to saving faith.

Hardcover, 495 pages.


ISBN- 9781433535475