---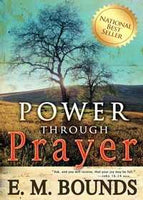 Sale
For many Christians, prayer is nothing special, just something we're supposed to do--go to church, tithe, read the Bible, pray. But prayer should be so much more than an item on our ''to do'' lists. With this time-tested manual for powerful prayer by author E. M. Bounds, you will discover how effective prayers can transform you into a dynamic Christian, gain a deeper understanding of God's Word, and experience personal and direct communication with God like never before. If you're ready to unleash more power in your life, join E. M. Bounds on this prayer adventure. There is Power through Prayer--you must only claim it for your life.

Contents

1. The Divine Channel of Power
2. Our Sufficiency Is of God
3. Man's Most Noble Exercise
4. Talking to God for Men
5. How to Get Results for God
6. Great Men of Prayer
7. ''Early Will I Seek Thee''
8. The Secret of Power
9. Power through Prayers
10. Under the Dew of Heaven
11. The Example of the Apostles
12. What God Would Have

Paperback, 144 pages.


ISBN- 9780883688113