---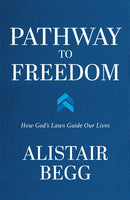 Sale
Amidst the moral crisis that exists today, the message of the Ten Commandments can give us order, direction, and hope. A look at contemporary society reveals that we neither know nor care much about the Law of God. There is a general listlessness and lawlessness in the lives of professing Christians, an absence of the fear of God in public worship and private living, and a growing confidence in ourselves and an accompanying loss of confidence in God and His Word.

Pathway to Freedom will challenge you to think more deeply about the significance of God's Law.

Paperback, 238 pages.


ISBN-  9780802428318