---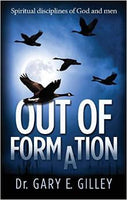 Sale
'Spiritual Formation' will not be a term that is familiar to everyone, but most Christians will be aware of the effects of it and many will have experienced at least some aspects of it, possibly through the writings of men like Richard Foster and Dallas Willard. Ancient mystical books and practices are being revived to feed the 21st century need for substantial roots to faith. This is no 'flash in the pan' or passing fad: the movement has grown in power and influence over the last forty years and seminaries and other influential authorities are promoting it. The great question is, 'are these things in harmony with the Word of God?' Dr. Gilley examines the movement and those leading it and issues this direct challenge:

Do we, as believers in sola Scriptura, take our marching orders from the written Word, or do we look to the ''white spaces'' in Scripture to determine how we live? Do we actually believe that the Lord has given us in Scripture the teachings and practices He wants us to follow, or do we believe that we must supplement the authentic words of God with our imagination and traditions of men?

Paperback, 291 pages.


ISBN- 9781783970414