---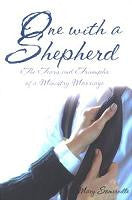 Sale
The author captures the heart of the biblical model for women who are married to pastors and ministers. With honesty and biblical truth, she focuses on how Christ transforms your roles and responsibilities in life.

"It's with great confidence and joy that I recommend this book. I'm so thankful for all the women who support all the men who minister to God's church, and I know that this book will be a source of enlightenment and encouragement for them." – ELYSE FITZPATRICK, author, speaker, counselor

"It is always a joy to recommend sound advice and biblical teaching written by someone who lives it. In this helpful volume you will find both! As a former teacher of both seminary and pastors' wives, I wholeheartedly recommend this book. It will help you to glorify our Lord and improve and better understand your ministry marriage." – ELIZABETH GEORGE, author and women's conference speaker

"This book is a treasure of God's glory, grace, and hope for the pastor's wife. Mary Somerville has written with biblical and practical clarity all-the-while weaving in personal glimpses of her own life and what the Lord has taught her. I loved reading this exceptional book and believe it will be beloved by pastor's wives for many years to come." – MARTHA PEACE, biblical counselor and author of The Excellent Wife

Paperback, 304 pages.


ISBN- 9780971756892