---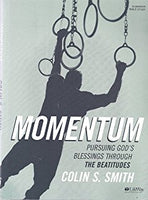 Sale
The Beatitudes are not telling you how to become a Christian—they tell you what a true Christian looks like.
Everyone wants to be blessed. We want to be blessed in life, blessed in death, and blessed in eternity. In the Beatitudes, the Son of God tells us about the life that is blessed and about the people who are blessed. But Jesus does more than just describe a blessed life, He gives us a way to actually pursue it.
If you want to make strides in overcoming sin, growing in godliness, abounding in good works, and enjoying intimacy with the Lord, this book is for you. And if you have lost hope that any of these things are possible, this book is especially for you. You can make progress, starting today.
Paperback, 208 pages.
ISBN- 9780802413864