---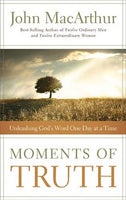 Sale
We are in desperate need of moments of truth--Truth that can shine through the clutter of modern life; Truth that we can welcome without hesitation; Truth that is good for our souls.
The Bible is the only source for such truth, and Pastor John MacArthur is absolutely committed to sharing and illuminating God's truth for us. From creation to parenting, leadership to the end times, Moments of Truth addresses practical and foundational subjects in bite-size pieces.
Day by day, MacArthur quotes Scripture and helps us apply it to our lives with eye-opening lessons and probing questions that are relevant to the season. Spend time each day with Moments of Truth, and see how God uses the truth to set you free.
Paperback, 383 pages.
ISBN- 9781400203710