---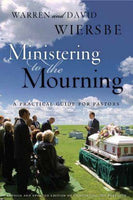 Sale
A practical guide for pastors, church leaders, and other caregivers

Ministering to the grief of those left behind following the death of a loved one is never as easy task. Our world is growing more complicated, the challenges are becoming greater, and the situations people face, more intense. This comprehensive resource provides pastors and church leaders of all levels of experience with insightful and practical advice for dealing with grief in a variety of situations. Caregivers will gain insight into the grief process and learn to recognize the signs of both healthy and unhealthy grief.

Full of scriptural insight and wisdom, Ministering to the Mourning is a competent guide for pastors and lay leaders, chaplains and funeral directors, hospice workers and emergency responders alike...anyone called on to comfort those who mourn.

Paperback, 235 pages.


ISBN- 9780802412416