---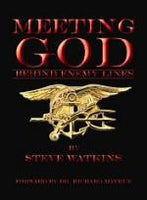 Sale
Meeting God Behind Enemy Lines

My Christian Testimony as a U.S. Navy SEAL
 
This autobiography details the intense training of a United States Navy SEAL, and the events that culminated in his coming to faith in Jesus Christ. Included are stories of sniper training, "Hell week", covert operations and training, including Operation Michael Jordan and Desert Storm. Appendices include: "From SEAL Team to Seminary" and "God's Plan of Salvation".

''Steve Watkins, member of the elite covert commandos that worked behind enemy lines in the first Gulf War, tells his remarkable story in a such a way that the reader can't put it down. But the inside story is even more compelling as Steve records how he came to a saving knowledge of Jesus Christ in the midst of his military service. It's my privilege to know him and his devotion to Christ, and h is faithfulness in ministry.''
-John MacArthur Pastor-Teacher

Steve Watkins (M.Div., The Master's Seminary) currently serves as Senior Pastor at Kenton Baptist Church in Kenton, Kentucky

Paperback, 176 pages.


ISBN- 9780977226207