---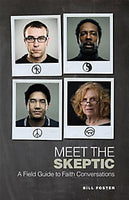 Sale
Christian faith almost always meets skepticism. Are you equipped to effectively handle the skeptic's questions and debates?

Meet the Skeptic is a new approach to equipping believers to engage the non-believing culture. Author Bill Foster takes the multitude of objections and reduces them to four basic categories. Understanding these categories will enable you to effectively share your hope in the gospel of Jesus Christ and clarify the skeptic's root objection. Foster offers pop culture references and biblical support so that you can:

Recognize the Red-Flag Words that prop up objections
Ask probing questions and acquire an ear for opportunities
Develop an understanding of the skeptics ideas and better fulfill the Great Commission.

This easy to read approach to apologetics and evangelism is a field guide to faith conversations. It is written for teens, college students, and adults and can be used as a group study with the leader's guide and workbook.


ISBN- 9780890516515