---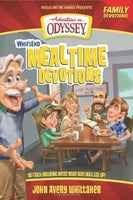 Sale
You make sure your children get the proper food they need to grow physically.  But are you providing a healthy spiritual diet to grow their hearts for God and others?  Now you can give them both with these family devotions for mealtime dished up by John Avery Whittaker, Adventures in Odyssey's friendly mentor.
Pass the fun around the table with 90 five-course devotional menus.  Each one includes:
Mealtime Prayer – a fresh way to bless your food
Appetizer – a fun question or activity
Main course – an object lesson or thought to chew on
Table talk – questions to spark interesting discussions
Vitamins and minerals – a creative way to thank God for your time together or a reminder that God provides all we need
These devotions can be gobbled up at any meal in any place.
Paperback, 97 pages.
ISBN- 9781589976764